46 year-old Craig Stephen Hicks (oh the irony) turned himself into Chatham county Sheriff's office in Pittsboro, Chapel Hill, N.C. after admitting to shooting and killing three people.
The Mr Hicks has now been charged with three counts of first-degree murder, and the alleged attack occurred through an armed atacked, fatally shooting the victims in the head; subsequently the victims were pronounced dead at the scene. The alleged victims are Deah Shaddy Barakat, 23, of Chapel Hill, Yusor Mohammad, 21, of Chapel Hill, and Razan Mohammad Abu-Salha, 19, of Raleigh. It's believed one of the victims, the youngest was a student, whilst the others were graduates.

Post Killing
The suspect turned himself into the condominium complex, on a quiet evening yesterday morning. Speculations are various, however investigators have not said what led to the shootings precisely; however Hicks is being held in jail till proceedings follow.
The strange setting I conceive here is the response from authorities within the local area, claiming there was no reason to believe the public was in danger following the incident. I question not the integrity of the authorities; rather the latent ethnic assumption; would the suspect be no danger towards the public if the man killing was himself a muslim? And the victim of white American heritage? Speculation.
Many have taken to social media to pay their respects and promote the issue, as media coverage of the story is gaining little attention. People are claiming, the murder was committed 'execution style' and have shown images of the victims in honour.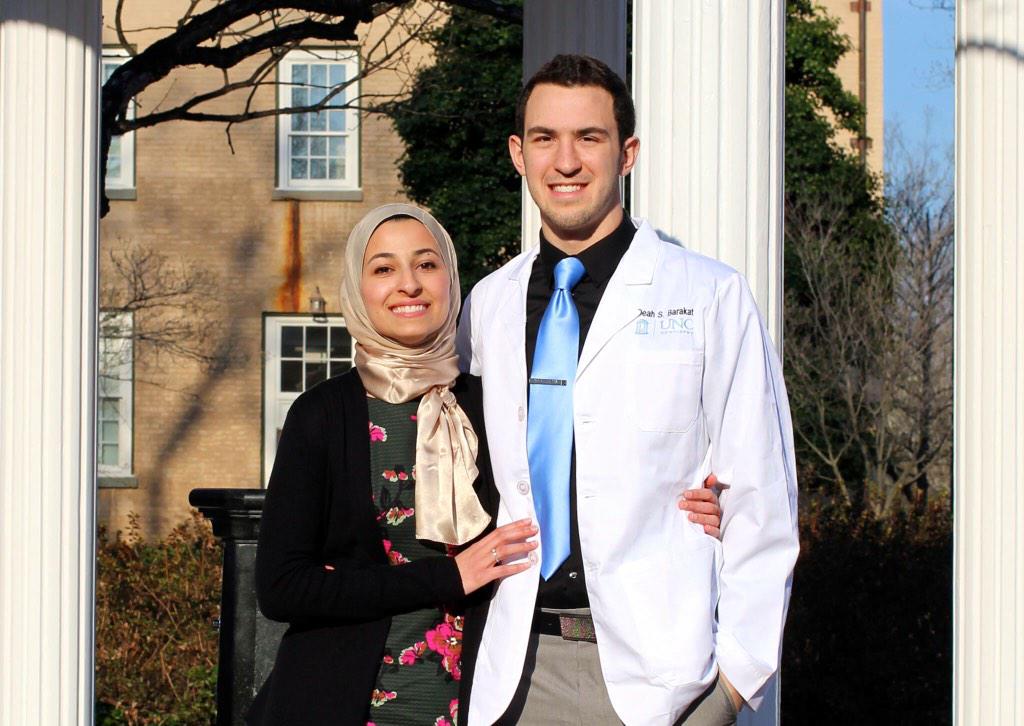 Rightly so, some compared the incident to the Charlie Hebdo shootings in Paris, and others called on Barack Obama and senior religious figures to condemn the attacks.
An American football and basketball fan, Mr Barakat was believed to be a dental student at the University of North Carolina and volunteered with a charity providing emergency dental care to children in Palestine.
He regularly posted on Twitter, and wrote in January: "It's so freaking sad to hear people saying we should 'kill Jews' or 'kill Palestinians'. As if that's going to solve anything."
A community Facebook page set up in the memory of the three victims, called "Our Three Winners", thanked people for their support and said it would carry "official announcements".
One person wrote this:
Adham Kassem @Adham_Kassem
I want to see protests, I want to see news coverage, I want to see marches, I want the same outrage expressed in France. #ChapelHillShooting